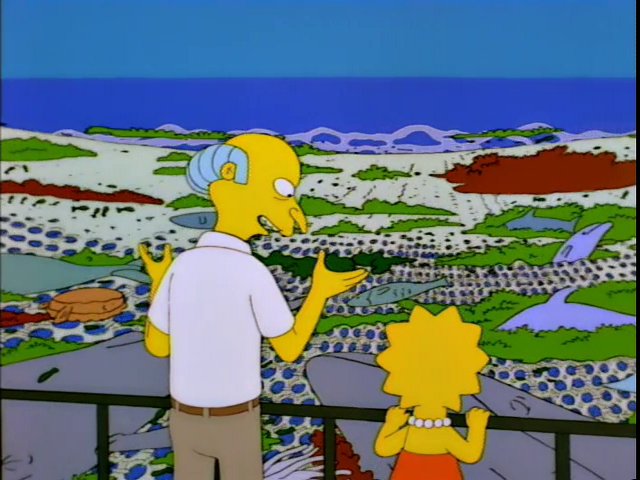 Location: Dickens Pub
Episodes:
Grade School Confidential,
The Canine Mutiny,
The Old Man and the Lisa
Categories:
Kent Brockman,

Roasting the new guy
Winner:
And with that, a mighty cheer went up from the heroes of Dickens. They had banished the awful trivia host 1 forever, because he was haunted. Now let's all celebrate with a cool glass of sprinklebrau.
1.
And with that, a mighty cheer went up from the heroes of Dickens. They had banished the
awful trivia host 1 forever, because he was haunted. Now let's all celebrate with a cool glass of sprinklebrau. 43.5
2. We at Simpsons Trivia Night want a team with attitude. They're edgy, they're in your face. You've heard the expression "Let's get busy?" well this is a team that gets "biz-zay." Consistently and thoroughly. 40.5
3. How do you keep Simpsons Trivia fresh and funny after 2 long years? Well here's what's on tap for year 3: All multiple choice rounds! Host after host after host! And did someone say "Exploding keg?" So join Calgary's favorite trivia hosts, and a tiny green space alien named Ezra that only Adam can see, in Dickens this fall! It'll be out of this world, right Ezra? 38
4. So "if" first place in Simpsons trivia is "deadlocked" we'll be "sequestered" at Dickens pub where we'll get a free room, free sprinklebrau, free HBO, food oooh, free Willy! 38
5. Occupation Please note trivia host isn't allowed, as it is not real work, that's why you don't get paid for it. 37.5
6. Grace C'mere! There's a sinister looking Trivia Host I want you to see! 35.5
7. Have you noticed any change in Adam? New co-host? No, he looks like something might be disturbing him. Probably misses his old co-host. 34
8. Unmistakable cone of ignorance. 30.5
9. Which popular Simpsons trivia host has retired in the past month? If you said Ezra, you are wrong. He was never popular. 30
10. Utit Choomuang. 30
11. The gay robots from Star Wars. 25.5
12. Sex Cauldron. 23
13. Our team name dates back to 19-dickety 2. 22
14. Adding a new trivia host is often a desperate attempt to boost low turnout. 21
15. Jizzwhizzles!! 11